The country's first Xibe museum opened to the public on July 26 in Shenyang, capital of Northeast China's Liaoning province.
The museum is located in the city's Shenbei new district which is home to China's Xibe ethnic group.
A modern museum, it houses collections of cultural relics and hosts various exhibitions and academic exchanges, as well as being home to several libraries of documents. More than 700 exhibits in the museum show the long history and development of the Xibe people.
Officials from the government of Liaoning province and Shenyang attended the opening ceremony.
With investment of 72.42 million yuan ($10.64 million), construction of the museum took three years. It covers a construction area of 7,398 square meters, with three floors above ground.
The first floor includes a multi-function hall, a restoration room for exhibits, and a souvenir shop. The second floor houses the main exhibition area, including exhibitions on history, culture, and development of the Xibe ethnic group. The third floor is an office area.
A number of Xibe people wearing traditional costumes visited the museum on the opening day, with many fascinated to learn more about the lives of their ancestors.
The Xibe ethnic group originated in Northeast China, mostly living in the Greater Hinggan Mountains area in ancient times.
In 1764, during the reign of Emperor Qianlong who ruled in the Qing Dynasty (1644-1911), the government sent groups of Xibe soldiers to Xinjiang Uygur autonomous region to settle the area and strengthen it against foreign invasion, as well as open up wasteland and grow crops.
The museum is free to visitors with ID cards from 9 am to 4 pm, excluding Mondays.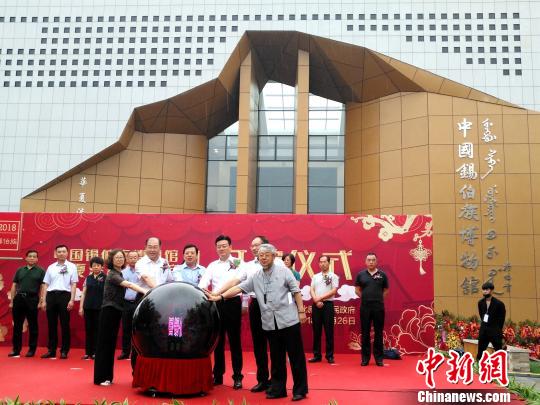 Officials announce the opening of the Xibe museum in Shenbei new district in Shenyang, Liaoning province, July 26. [Photo/Chinanews.com]