Shenyang clay target squad earned seven gold medals of 15 shooting events at the youth shooting (clay target) competition of the 13th Liaoning provincial games in Shenyang, Northeast China's Liaoning province, on July 25.
Zhu Minggang, head coach of the Shenyang clay target squad, said that the medals represent a reward for shooters' hard work and that the contest also marks a new starting point for teenage players.
The squad has maintained the top position in men's trap and men's skeet divisions at the past few provincial games.
The clay target event has become Shenyang team's advantage and has produced a number of shooting talents, such as Gao e, who took the bronze medal in the women's trap division at the 2000 Sydney Olympics Games.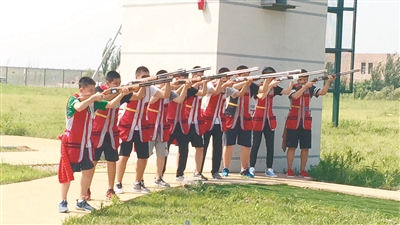 Teenage players practice in a shooting range in Shenyang, Liaoning province. [Photo/Shenyang Daily]